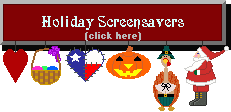 You will simply love
these cute holiday screensavers!




Two
Awesome
Animated Screensavers!










More Screensavers!

Click on the words for more screensavers
And click on the button for even more!













All the Major Search Engines in One Spot!
If You Can't Find It Here, You Can't Find It Anywhere!







OR




Copyright © 2000-2005

Heart & Soul Network

All rights reserved.